To further study the Xi Jinping's thought of socialism with Chinese characteristics and the spirit of the 19th National Congress of the Communist Party of China in the new era, inherit and carry forward the party's fine tradition and strengthen the sense of responsibility and sense of mission of the party members, on the occasion of the 97th anniversary of the founding of the party, HT-SAAE carried out "stay true to the mission to remember the red boat and keep the mission in mind" thematic party day activity and organized more than 160 party members, party activists and youth representatives from the headquarters, Shanghai Shenzhou New Energy, Automotive Electronics and System Branches to visit the Nanhu Revolutionary Memorial Hall.
The party first came to the red boat scenic spot, only seeing a red boat lying on the water. With the explanation of the commentator, they reviewed the history of 97 years ago when the ship of the Chinese revolution set sail from Nanhu.
Later, they visited Yanyu Hall - the national red classic scenic spot and one of the country's 100 patriotic education demonstration bases.
As the ferryboat moved on, they came to the Nanhu Revolutionary Memorial Hall. Each cultural relic and each picture vividly depicted the arduous struggle of the Chinese communists for national independence, people liberation, national prosperity and the great rejuvenation of the Chinese nation. Through the exhibition, they were deeply impressed by the spirit and courage of the Chinese communist party and the older generation of revolutionaries who were not afraid of sacrifice and hardship, and were once again baptized by their thoughts.
Out of the memorial, they came to the oath wall. Under the leadership of Zhao Haiyan, deputy secretary of CPC, everyone reviewed the oath at the CPC joining ceremony, and further strengthened the ideal faith of the communist party and the determination to keep pace with the times and follow the party.
"Red boat spirit" was everlasting across time and space. All participants agreed that they would be good learners, communicators and practitioners of the "red board spirit", recall the red footmark, strengthen their ideals and beliefs, stay true to the mission, remember their mission and forge ahead in the journey of promoting the development of HT-SAAE!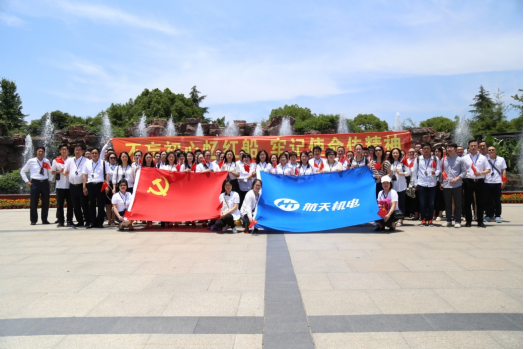 Group photo of party members, party activists and youth league members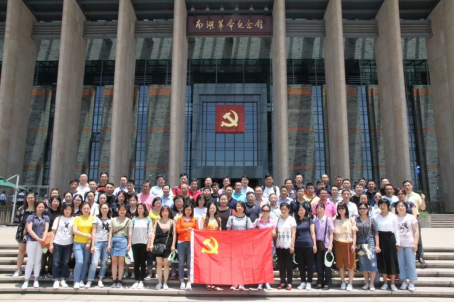 Group photo of Automotive Electronics in front of the Nanhu Revolutionary Memorial Hall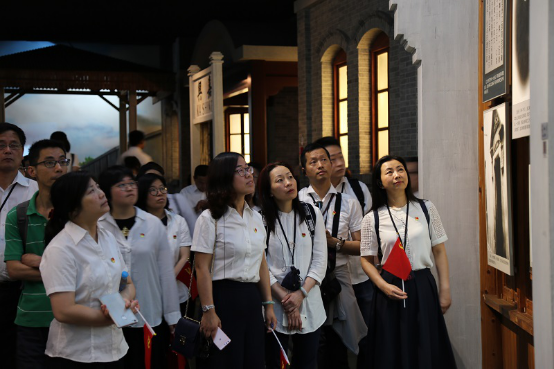 The party members are visiting the scene in the Nanhu Revolutionary Memorial Hall
The party members are reviewing their oath at the CPC joining ceremony before the oath wall